Price From: £22,284 - £26,863
[Walnut / Graphite / Thunder Cabinet] £22,284
[White Solid Surface Cabinet] £26,863
The Cube model is the perfect product for anyone interested in buying a top-of-the-range spa matched by high performance for the enjoyment of couples, the family or even a get-together with friends at home.
We have been manufacturing spas since 1988 and all of our in-house designs put our customers' needs above everything else. At Aquavia Spa we designed the Cube model with the intention of enabling users to enjoy the perfect spa session surrounded by luxury.
The Cube spa comes with an ice bucket to keep your favourite drink cool and headrests around two of the spa's edges for maximum comfort.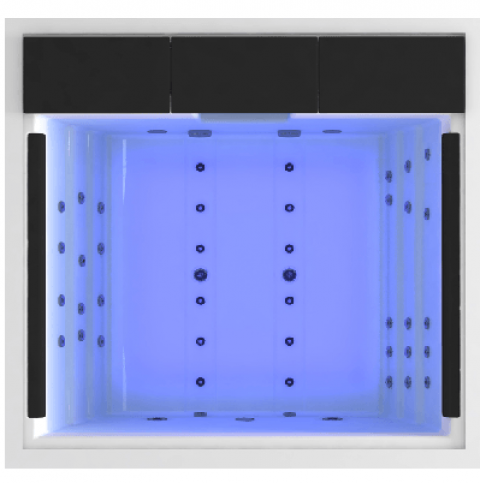 The Cube Spa Specifications
Seating Capacity: 4 Adults
Dimensions: 231 x 231 x 78 (± 1cm)
Average Spa Volume: 975 Liters
Dry Weight: 450 Kg
Total Filled Weight: 1.425 Kg
Spa massage pump: 1.800 W / 2,5 HP
Spa blower pump: 1.150 W
Spa filter pump: 250 W
Low Amp (W)/(A) to 230 V: 3.400 W / 14,8 A
Spa voltage: 230 V / 400 V III
Cabinetry: Solid Surface, Walnut, Graphite, Thunder
Shell: White, Sterling, Pearl Shadow, Winter Solstice, Sand
GET THE BEST PRICING TODAY
Please provide your information in the form below and we will get in touch with you soon with your quote.