Price From: £14,433 - £17,604
[Soft Rain] £17,604, [Walnut / Graphite / Thunder Cabinet] £15,031
[Without Cabinet] £14,433
The Essence is a well-equipped hot tub which will be a big hit with the 5 people who are enjoying it. It is reasonably-sized (216×216) to make the most of the space, providing its users with absolute and complete wellness thanks to its 2 loungers that face each other in an L shape and its 3 seats opposite to them in a fan arrangement. It is designed to provide exceptional experiences either for groups or couples, with different layouts of jets and nozzles in each position to offer complementary hydromassages and make it easier to move around the space. Without question, the Essence is sure to be a hit, the result of years of research and development (R&D) aimed at improving the user experience through design and technology.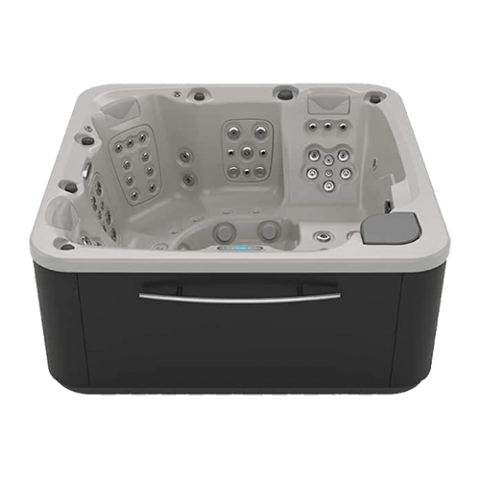 The Essence Hot Tub Specifications
Seating Capacity: 5 Adults
Dimensions: 216 cm x 216 cm x 90 cm
Average Spa Volume: 930 Liters
Weight of the hot tub: (empty/full): 327 Kg / 1.257 Kg
Spa massage pump: 2 x 1.800 W / 2,5 HP
Spa blower pump: 1.150 W
Spa filter pump: 250 W
Low Amp (W)/(A) to 230 V: 5.200 W / 22,4 A
Spa voltage: 230 V / 400 V III
Cabinetry: Walnut Woodermax, Thunder Woodermax, Graphite Woodermax, Butterfly Woodermax, Dark Grey Soft Rain
Shell: White, Sterling, Pearl Shadow, Cameo, Silver, Sand
GET THE BEST PRICING TODAY
Please provide your information in the form below and we will get in touch with you soon with your quote.