The Feel hot tub is a versatile and practical hot tub that is very compact in size, as is standard in the Aqualife range. It features 5 totally ergonomic and fully equipped positions, with two comfortable loungers and three deep seats with headrests that allow it to perform the best massages. Without a doubt, the Feel is designed for families that want a hot tub with outstanding features, so that they can relax and share good times at home.
A total of 44 massage points (32 water jets and 14 air nozzles) also make your time in the hot tub a truly unforgettable experience. It is an incredibly well-equipped and flexible hot tub: localised high-pressure hydromassage jets, rotating massage jets for drainage, rotating anti-stress massage jets and foot massage jets make the Feel a true home hydromassage tub, whether on a terrace, in a garden or indoors.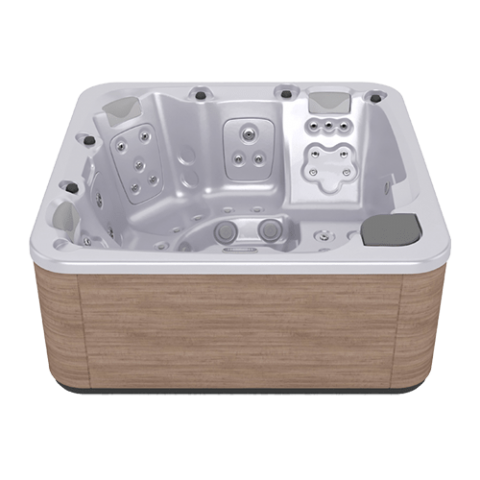 The Feel Hot Tub Specifications
Seating Capacity: 5 Adults
Dimensions: 216 cm x 216 cm x 90 cm
Average Spa Volume: 930 Liters
Weight of the hot tub: (empty/full): 327 Kg / 1.257 Kg
Spa massage pump: 1.800 W / 2,5 HP
Spa blower pump: 400 W
Spa filter pump: 250 W
Low Amp (W)/(A) to 230 V: 3.400 W / 14,8 A
Spa voltage: 230 V / 400 V III
Cabinetry: Graphite, Walnut Woodermax, Thunder Woodermax, Butterfly Woodermax
Shell: White, Sterling, Cameo, Silver, Sand
GET THE BEST PRICING TODAY
Please provide your information in the form below and we will get in touch with you soon with your quote.