Designed to deliver a relaxing yet stimulating massage, the midsize Jacuzzi® Hot Tubs J-335™ model features a compact lounge seat and enough seating for 5-6 adults. This hot tub model boasts PowerPro® Jets that work to ease the tension in your muscles and help reduce your overall stress. This spa showcases a HydroSoothe™ no-splash jetted massage pillow and delivers full-body relief in a Petite ProAir™ Lounge seat. While this high-performance hot tub is certainly appealing, don't forget to check out our other models in the J-300™ Collection. We also provide a vast selection of hot tub accessories, from spa covers to steps, to personalize your tub.
Note: Bluetooth audio included.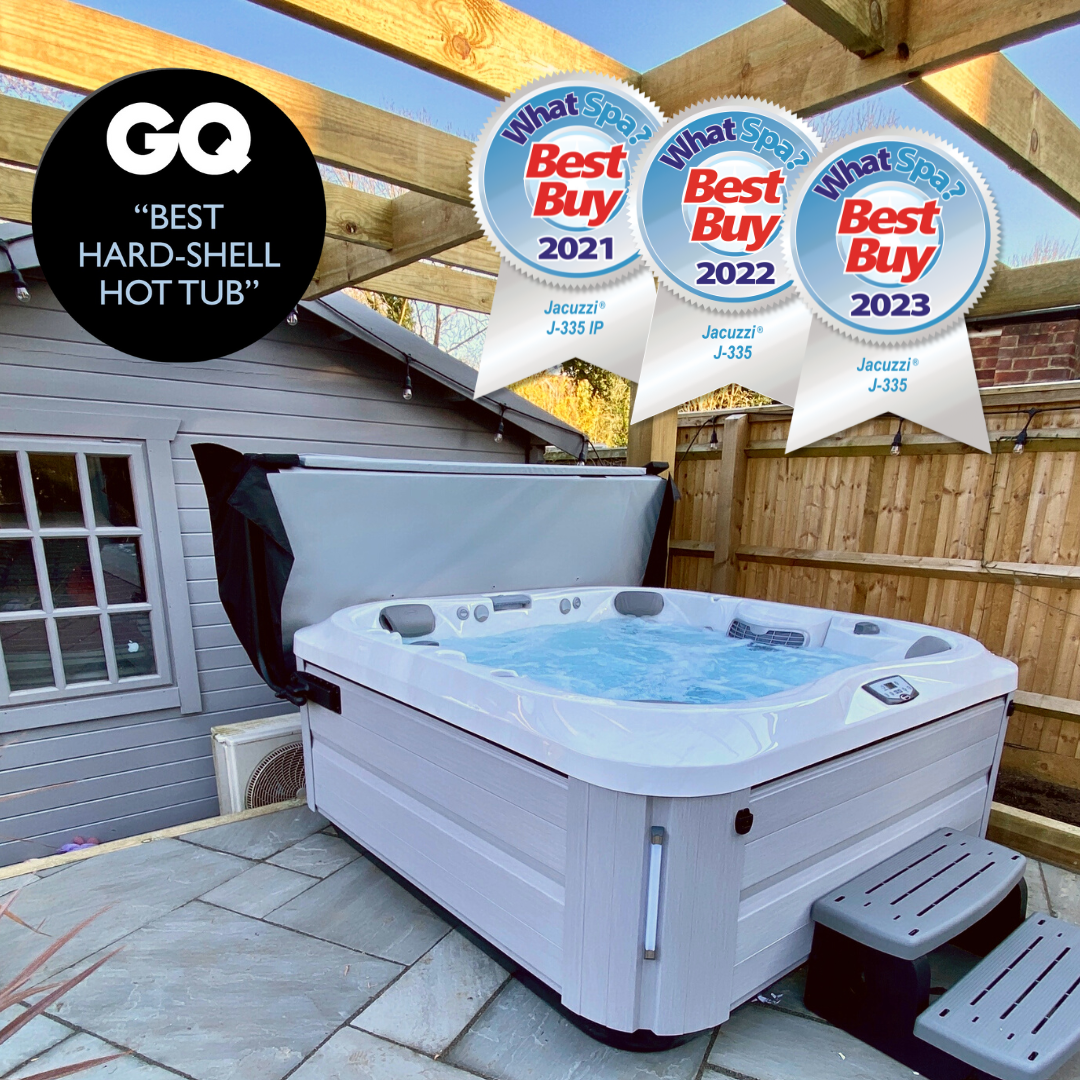 84" x 84" x 37" / 214 cm x 214 cm x 94 cm
Customize the J-335™ Hot Tub
The J-335™ Specifications
Dimensions: 84" x 84" x 37" / 214 cm x 214 cm x 94 cm
Spa Volume: 360 gal (1363 L)
Filled Weight: 4507 lbs (2125 kg)
Dry Weight: 754 lbs (342 kg)
Primary Pump: 1 speed, 2.5 continuous hp (4.5 brake hp*)
Secondary Pump: 1 speed, 2.5 continuous hp (4.8 brake hp*)
Filtration: ProClear® Filtration System with Skimming Weir and ProCatch Bag
Filters: 1 - ProClear® 60 sq ft filter (hydro), 1 - Proclear® 60 sq ft filter (circ)
North America Electrical: 240VAC 60 Hz 40A, 50A or 60A
International Electrical: 230-240V 50 Hz @ 20A, 30A or 40A
Watch the J-335™ Hot Tub Videos
Features of a Jacuzzi® Hot Tub
Showcasing impressive exterior and lighting elements, featuring the greatest massage available, you'll never look at hot tubs the same way again.
Hydrotherapy Health Benefits
GET THE BEST PRICING TODAY
Please provide your information in the form below and we will get in touch with you soon with your quote.