The J-495™ is the largest Jacuzzi® Hot Tub in the J-400™ Collection. Packed with the widest variety of premium PowerPro® jet combinations in one model and also features a unique bench seat for two. This hot tub model also has a unique high back design protects you from the elements while also allowing for the extra-wide, illuminated waterfall to cascade warm water down your neck and back. Complete with stunning ProFinish™ cabinetry with optional corner accent lighting, an at-a-glance indicator light, and touch screen control panel, this packed-with-features hot tub delivers a full style package.
Note: Bluetooth audio included.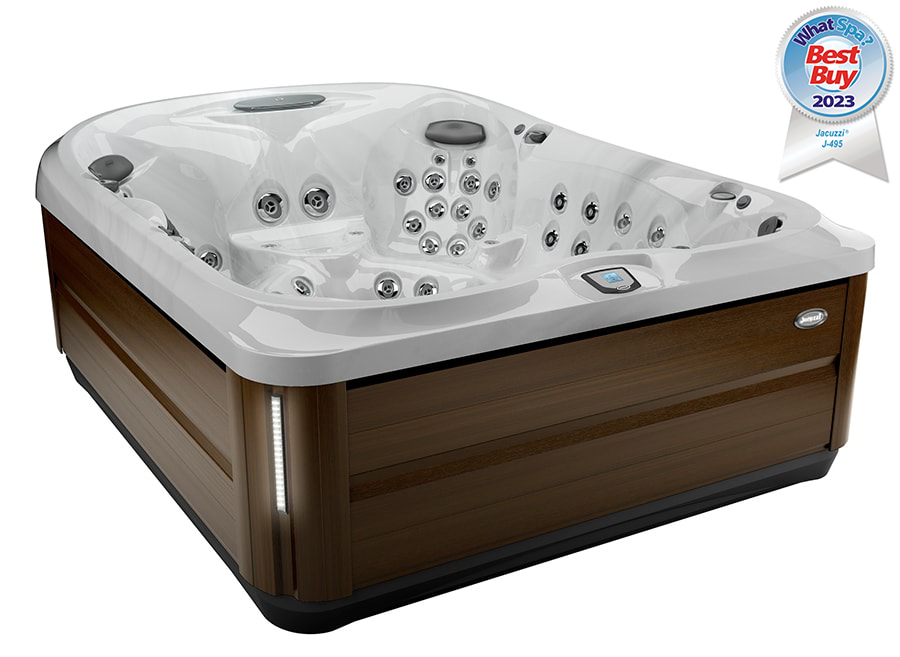 91" x 110" x 37.5 - 43.5" / 231 cm x 279 cm x 95 cm -110.5 cm
Customize the J-495™ Hot Tub
The J-495™ Specifications
Dimensions: 91" x 110" x 37.5 - 43.5" / 231 cm x 279 cm x 95 cm -110.5 cm
Spa Volume: 500 gal (1893 L)
Filled Weight: 6679 lbs (3030 kg)
Dry Weight: 1091 lbs (495 kg)
Primary Pump: 1 speed, 2.5 continuous hp (5.1 brake hp*)
Secondary Pump: 1 speed, 2.5 continuous hp (5.1 brake hp*)
Filtration: ProClarity™ Filtration System with Grill, Skimming Weir and ProCatch™ Bag + ProClear™ Pleated Filter
Filters: 1 - ProClarity® Depth Load Filter (circ), 1- ProClarity® 40 sq ft. filter (circ), 1- ProCatch® bag with ProClear® 60 Sq ft filter (hydro)
North America Electrical: 240VAC 60 Hz 40A, 50A or 60A
International Electrical: 230VAC 50 Hz @ 1x32A
Watch the J-495™ Hot Tub Videos
Features of a Jacuzzi® Hot Tub
Showcasing impressive exterior and lighting elements, featuring the greatest massage available, you'll never look at hot tubs the same way again.
Hydrotherapy Health Benefits
GET THE BEST PRICING TODAY
Please provide your information in the form below and we will get in touch with you soon with your quote.