Price From: £14,418 - £17,588
[Soft Rain] £17,588, [Walnut / Graphite / Thunder Cabinet] £15,016
[Without Cabinet] £14,418
The Nice hot tub model is designed to provide a powerful massage combined with excellent ergonomics. It is a 5-seater hot tub that combines a lounger with 4 comfortable seats. Share your best moments with your family, partner or friends with this impressive hot tub equipped with 3 powerful pumps that feed the 54 jets and 12 air nozzles.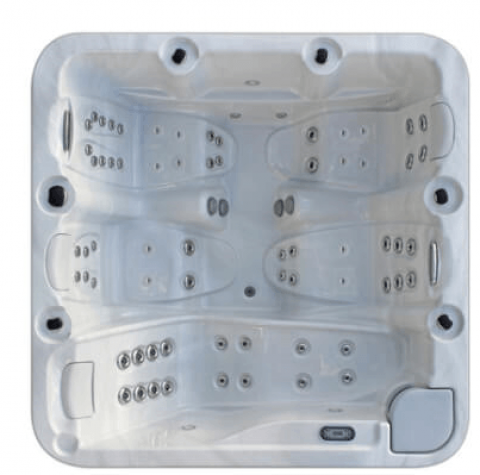 The Nice Hot Tub Specifications
Seating Capacity: 5 Adults
Dimensions: 216 x 216 x 90 (± 1cm)
Average Spa Volume: 1.180 Liters
Dry Weight: 306 Kg
Total Filled Weight: 1.486 Kg
Spa massage pump: 2 x 1.800 W / 2,5 HP
Spa blower pump: 700 W
Spa filter pump: 250 W
Low Amp (W)/(A) to 230 V: 5.200 W / 22,4 A
Spa voltage: 230 V / 400 V III
Cabinetry: Walnut, Graphite, Thunder
Shell: White, Sterling, Pearl Shadow, Cameo
GET THE BEST PRICING TODAY
Please provide your information in the form below and we will get in touch with you soon with your quote.