[without cabinet] £14,017
We have before us a true leader. A highly popular hot tub that is one of Aquavia Spa's top sellers. With its delightful design, versatility, outstanding features and ergonomics, it is no wonder that it is a leading seller. And over the years, we have managed to improve each of these aspects for residential and family use without sacrificing any part of its essence. Its 216 x 216 interior space can comfortably fit 6 people (1 lounger, 5 seats), who can enjoy a complete massage circuit with a proactive and relaxing effect, thanks to its 44 hydrotherapy massage jets and 10 pressurized hot air jets. And let's not forget the great power delivered by its 4 separate pumps (2 for water jets, 1 for air bubbles, 1 for ultra-silent filtration).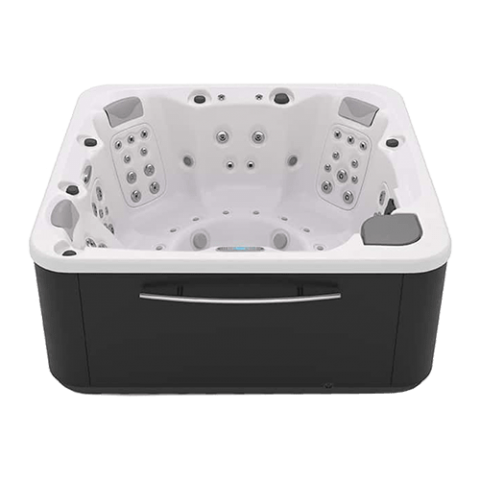 The Soft Hot Tub Specifications
Seating Capacity: 6 Adults
Dimensions: 216 cm x 216 cm x 90 cm
Average Spa Volume: 980 Liters
Weight of the hot tub: (empty/full): 330 Kg / 1.310 Kg
Spa massage pump: 2 x 1.800 W / 2,5 HP
Spa blower pump: 1.150 W
Spa filter pump: 250 W
Low Amp (W)/(A) to 230 V: 5.200 W / 22,4 A
Spa voltage: 230 V / 400 V III
Cabinetry: Walnut Woodermax, Thunder Woodermax, Graphite Woodermax, Butterfly Woodermax, Dark Grey Soft Rain
Shell: White, Sterling, Pearl Shadow, Cameo, Silver, Sand
GET THE BEST PRICING TODAY
Please provide your information in the form below and we will get in touch with you soon with your quote.