[without cabinet] £12,859
The new Suite Spa is one of the most seductive minimalist hydromassages of the moment, and as with all hot tubs from the Premium range, it offers that something extra that some users always seek: better finishes, more features and the total quality of Aquavia Spa. This hot tub has a stylish design, above all aimed at couples and intended for private residences and hotel suites. Its compact dimensions (203x150x72) enable 4 different positions inside the hot tub, two of them in the form of ergonomic loungers.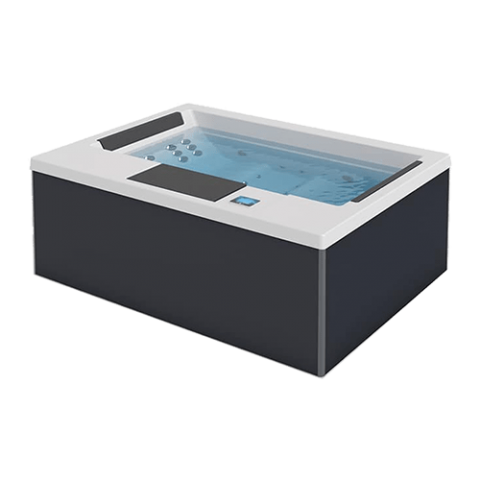 The Suite Spa Specifications
Seating Capacity: 4 Adults
Dimensions: 203cm x 150cm x 72cm
Average Spa Volume: 520 Liters
Weight of the hot tub: (empty/full): 195 Kg / 715 Kg
Spa massage pump: 1.800 W / 2,5 HP
Spa blower pump: 1.150 W
Spa filter pump: 250 W
Low Amp (W)/(A) to 230 V: 3.400 W / 14.8 A
Spa voltage: 230 V / 400 VIII
Cabinetry: Walnut Woodermax, Thunder Woodermax, Graphite Woodermax, Butterfly Woodermax
Shell: White
GET THE BEST PRICING TODAY
Please provide your information in the form below and we will get in touch with you soon with your quote.