SPECIAL FINANCING:
4.9% FOR 5 YEARS
Minimum deposit: £2,000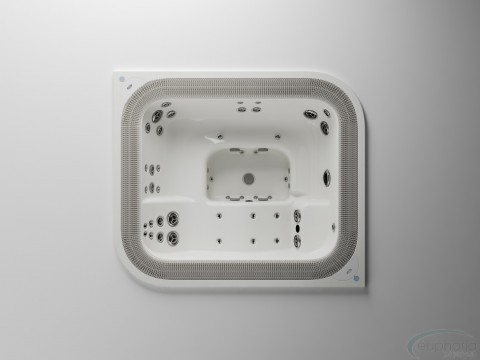 Styling perfect for any domestic environment combined with commercial features to deliver a low maintenance hot tub ideal for intensive use, the Virtus is the ultimate hybrid hot tub. Virtus offers a fuss-free installation and offers easy to use controls, superior hydromassage for the complete user experience.
Virtus is the perfect space to share a moment of wellness, have fun together and free your mind. Inspired by the Nautilus seashell with a shell that seems to be molded by water and has a spiral shape, Virtus has been designed for the hospitality field but delivers features and a design perfect for the everyday user looking for a low maintenance hot tub.
Virtus is the perfect hybrid hot tub for the commercial market or home environment as commercial features are combined with contemporary styling perfect for any setting. Commercial features include an overflow grid ensuring no loss of water, integrated compensation tanks to ensure the water remains at the correct level whilst the integrated filter which utilizes fibre balls or sand to deliver filtration ensuring the Virtus hot tub requires minimal maintenance.
The seven seats have increasing tilt and depth, offer targeted and complete hydrotherapy and are suitable to anyone, even children. Thanks to QuickDrain™ and the self-draining shell, the drainage of Virtus™ is easy, quick and complete. This combination guarantees the maximum efficiency, both in speed and impeccable results, avoiding any chance of stagnation. With an overflow grid and compensation system, the water is always at the desired level, without the need to constantly refill it. Fitted with a 3kW electric heater or an optional heat exchanger or heat pump and thanks to the heating system it can be used outdoors all year round regardless of the weather. For even quicker heating it is possible to add an optional 6kW (3+3) heater to the 3kW one.
Want to learn more about this hot tub?
GET THE BEST PRICING TODAY
Please provide your information in the form below and we will get in touch with you soon with your quote.