Looking to jazz up your garden this spring?
You aren't the only one! There's something about the warm, sunny weather after months of being cooped up indoors that makes us want to revamp our outdoor spaces.
For the ultimate approach to garden fitness, entertainment and relaxation, installing an all-season pool might be the right choice for you!
With so many installation options, it can be hard to decide which look is best. To start, you'll want to decide between an in-ground and above-ground installation.
In this article, we're going to dive a little deeper into in-ground all-season pool installations and what it takes to create the perfect one.
The Benefits of In-Ground All-Season Pools
All-season pools, also known as swim spas and fitness pools, can be a great addition to just about any garden. Your all-season pool installation should cater to your needs and wants.
While an above-ground installation may be the right choice for some, often homeowners will opt for the completed look of an in-ground installation.
Some of the reasons that homeowners opt for in-ground all-season pool installations are:
Longer-Lasting
The all season pool is provided with extra protection from the elements when installed underground.
Improved Aesthetic
Many homeowners prefer the aesthetics of in-ground all-season pools as they offer a more complete look. When installed in-ground, these spas can be easily and seamlessly accessorized with potted flowers, lounge chairs and more!
Home Value
Once installed below ground, it's quite unlikely that a homeowner will uninstall the all season pool if they are selling their house and moving. This means that the all season pool installation can become a selling feature for your home and even help to boost the value!
Steps to Installing Your All-Season Pool In-Ground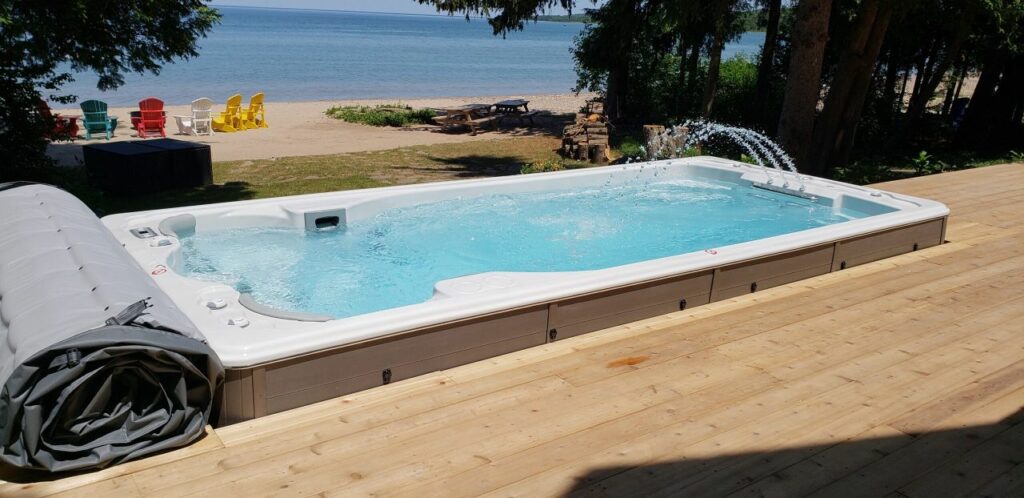 Planning & Budgeting
Before you find the perfect all-season pool for your garden, we advise that you take time to do some planning, create a budget and research the brands and installation styles available to you. For help getting started, visit our team of experts at Euphoria Lifestyle today, where our team can walk you through the range of all-season pools for sale as well as all-season pool prices.
Location Preparation
After you've chosen a location in your garden to install your in-ground all-season pool, you must prepare the area. This includes removing debris and any outdoor features, such as patio furniture.
Once the excavation area has been marked off and the pit dug, concrete will be laid on the bottom to reinforce the ground. Finally, cement blocks will be stacked along the walls to provide additional support.
Installation
Your all-season pool will need to be lifted and lowered into the hole using a crane. They will hoist it over your fence for home safety.
Once the spa has been placed, your delivery and installation team will work together to ensure that the installation is level and sound. Drainage will also be needed within the pit for this installation.
Decking
Your installation and construction team will then work together to complete the deck area surrounding your swim spa, including placing joists, laying boards, staining the wood, and cleaning up the area for the final product.
Finishing Touches
It's time to accessorize your all-season pool installation and truly make it your own!
Patio furniture
Lounge chairs
Throw pillows
Daybeds
BBQ
Potted plants
Exterior lighting
How will you accessorize your garden with all-season pool installation?
Above-Ground Installations
In-ground installations can sometimes come with additional costs that can be a deal breaker. Euphoria Lifestyle recommends an above-ground installation for those who are looking for a more affordable solution.
By installing the swim spa on a concrete pad and then simply building a raised deck or patio structure around it, you can save money while still achieving the sought-after "built-in" look.
Not to mention that this kind of installation can allow for hassle-free access for servicing in the future.
All-Season Pools at Euphoria Lifestyle
"How much are all-season pools?"
"How do you clean an all-season pool?"
"Should I get a hot tub or an all-season pool?"
Ask these questions and more when you visit our team of garden specialists at Euphoria Lifestyle today! We're more than happy to help you start out on the right foot and make the absolute best of your garden area.
We carry top all-season pool brands, including  Aquavia Spas!