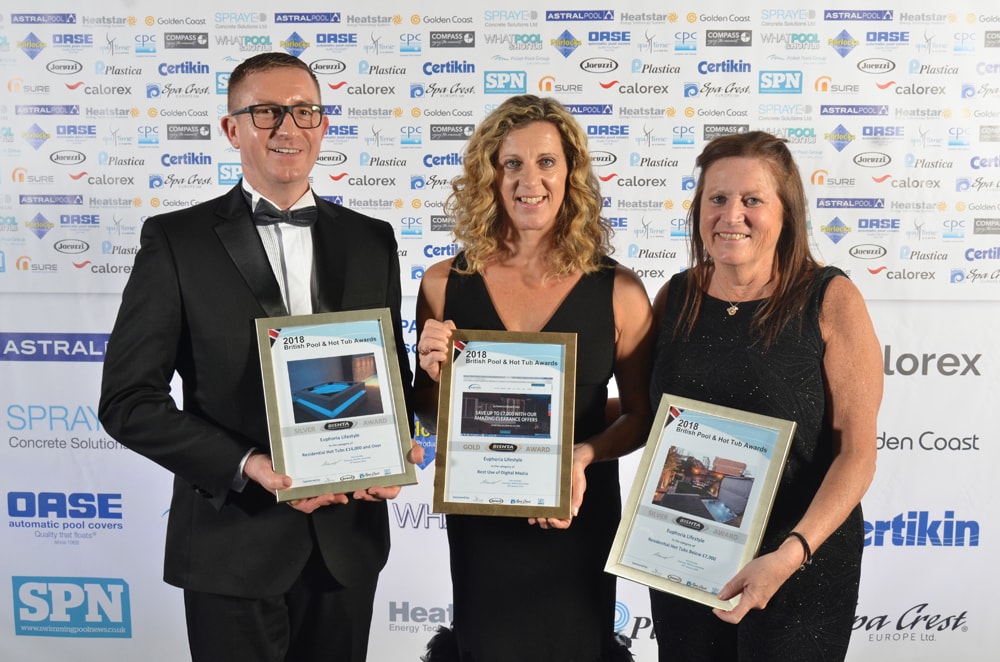 Local Company, Euphoria Lifestyle, WINS a Mass of Awards at the Annual British Pool & Hot Tub Awards 2018.
Euphoria Lifestyle, based in Washington, West Sussex are celebrating after collecting Gold and two Silver Awards at the prestigious British Pool & Hot Tub Awards, hosted by BISHTA and SPATA, held on Tuesday 30th January, at the Ricoh Arena, in Coventry. The British and Irish Spa and Hot Tub Association (BISHTA) and the Swimming Pool and Allied Trades Association (SPATA) are the relevant bodies upholding standards within the Wet Leisure Industry. Rebranded in 2015, the first BISHTA awards were won in 2008, while the first SPATA awards were won in 1978. These well-established awards are the UK's number one wet leisure industry accolades.
The BISHTA awards were presented to Euphoria Lifestyle for the categories; Residential Hot Tubs below £7,000 (Silver), Residential Hot Tub £14,000 and over (Silver) and Best Use of Digital Media (Gold). The BISHTA awards categories were sponsored by Complete Pool Controls, Jacuzzi Spa and Bath Ltd, Spa Crest Europe, and SpaTime by BAYROL. The Gold award was presented to Euphoria Lifestyle onstage by Sally Gunnell OBE DL.
Mike Robinson of Euphoria Lifestyle said: "We are delighted to have received such prestigious accolades at the British Pool & Hot Tub Awards. Being recognised with Gold and two Silver BISHTA awards by leading industry voices is an incredible achievement. Our whole team strives for excellence in all that we do, and our win demonstrates their dedication."
About the British Pool & Hot Tub Awards
The British Pool & Hot Tub Awards aim to recognise the achievements of the wet leisure industry, by showcasing the best examples of design, construction, installation, and innovation and entries are received nationwide from members. BISHTA and SPATA set standards governing the installation, construction and operation of hot tubs, swim and exercise spas, pools, spas, saunas and steam rooms, respectively. Along with establishing a Code of Ethics by which their members abide, the Trade Associations give a voice to the industry at home and abroad. With nearly thirty award categories, the British Pool & Hot Tub Awards reflect the different types of spas, hot tubs, and pools to suit all kinds of budgets.
Entering the British Pool & Hot Tub Awards also opens the door to Europe, as award-winning companies are eligible to be shortlisted for the European Pool & Spa Awards hosted by EUSA (European Union of Swimming Pool and Spa Associations). Winning these awards shines a spotlight on the UK winners raising their profiles in the UK and across Europe.
Partners and Sponsors of the British Pool & Hot Tub Awards are; Complete Pool Controls, Jacuzzi Spa and Bath Ltd, Spa Crest Europe and SpaTime by BAYROL. Astralpool UK, Calorex Heat Pumps, Certikin International, Compass Pools, Fairlock Pool Products, Golden Coast, Heatstar, ISPE, Nsure, Oase, Plastica, Pollet Pool Group, Sprayed Concrete Solutions, Swimming Pool News and What Pool & Hot Tub.
The British Pool & Hot Tub awards are held at the Industry Gala Evening during SPATEX, the UK's largest Pool, Spa and Wellness Show. SPATEX is an exhibition that sees companies from across the UK and overseas, promoting their products and services, along with a chance to network with colleagues. SPATEX is not only the UK's largest, but is also the longest running, dedicated swimming pool, spa, and wellness exhibition. SPATEX is in the Ericsson Exhibition Hall, Ricoh Arena, Coventry from 30th January to 1st February 2018.
Contact:
Mike Robinson
Euphoria Lifestyle Ltd.
Squires Garden Centre, London Road
Washington, West Sussex, RH20 3BP
0800 023 2215
http://www.euphoria-lifestyle.co.uk
mike@euphoria-lifestyle.co.uk