Are you the proud owner of an all-season pool?
Also known as swim spas, hydrotherapy pools and exercise pools, all season pools are becoming a more popular garden addition each and every day. Perfect for recreation, entertainment and relaxation, there is a swim spa perfect for just about every garden and lifestyle.
To make the most of your swim spa, accessorize it with all the right outdoor essentials!
From outdoor furniture and BBQs, to gazebos, steps, potted plants and more, there are so many ways that you can complete your all season pool installation.
In this article, we're going to focus on one accessory that every spa owner should have: the cover. In particular, the technology behind and benefits of the Covana LEGEND swim spa cover.
The Covana Legend Swim Spa Cover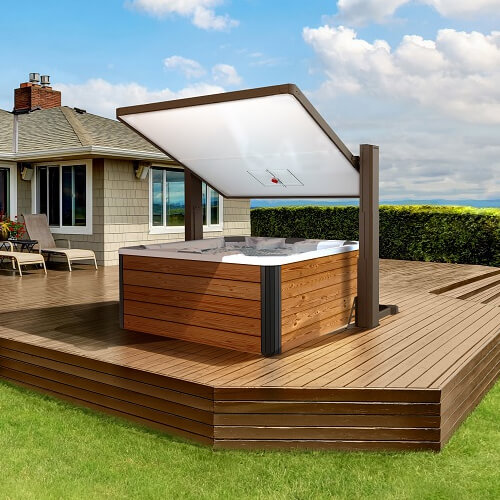 The Covana Brand
The Covana brand aims to be your key to happiness, in the garden at least! Imagine being able to prepare your hot tub or all season pool for use with a touch of a button? With Covana, your dream can easily become a reality.
Within 20 seconds and with minimal effort, your Covana automated system will lift the cover from the spa and hoist it upward, securing it above as a gazebo would.
Once your spa session is finished, simply press the button and the cover will retract and effectively seal the top of the spa once again. These cover-gazebo systems are available in a variety of sizes and styles, to meet the needs of just about any hot tub or swim spa installation.
Covana Legend Cover
With the Covana LEGEND swim spa cover, your spa will be more accessible and easier to use than ever before. Rain, snow or shine, your cover will lift and transform into a beautiful gazebo with the simple click of a button.
The Covana LEGEND cover is built with strong, durable materials to help insulate the spa. In fact, these covers provide an insulation value that is far higher than most traditional covers.
Outdoor swim spa owners can enjoy an added sense of confidence as these modern covers will provide the all season pool with added protection against the elements, while effectively keeping curious children, pets and wildlife out of the water.
In just a few seconds, you can enjoy the luxurious heat of your all season pool, without fumbling to remove the cover manually. Not only that, but a flexible design makes this automated cover and gazebo system perfect for both oval and rectangular outdoor swim spas.
Benefits of the Covana Legend Cover
Want to maximize the enjoyment and relaxation of your garden swim spa? The Covana LEGEND cover system might just be able to help. Some of the top benefits of these covers can include:
Quick and easy installation
User-friendly and easy to use
Sleek and stylish
Not physically demanding
Durable and reliable
Added protection, functionality and safety
How would the Covana LEGEND benefit your garden lifestyle?
Covana Covers at Euphoria Lifestyle
Visit Euphoria Lifestyle today to browse through a wide selection of Covana covers for sale, including the LEGEND model. We have some of the best prices on spa covers, garden essentials and hot tubs and swim spas for sale in West Sussex.
To learn more about the benefits of outdoor swim spas and automated spa covers, visit our showroom today.