For Immediate Release: 29th January 2020
'Only the 'Best of the Best' win a British Pool & Hot Tub Award' this is clearly demonstrated by the winners of this most prestigious awards event held at the Ricoh Arena in Coventry. The combined swimming pool, spa, hot tub and wellness industry attracts entries from companies across Britain (and some from overseas). These national awards bring together members from BISHTA (British and Irish Spa and Hot Tub Association) and SPATA (Swimming Pool and Allied Trades Association) to celebrate the achievements and acknowledge the best, boldest and most creative projects.
With 'Oscar-Esque' status in the Water Leisure Industry, the 2020 British Pool & Hot Tub Award winners were announced in Coventry at the annual Industry Gala Evening, held during SPATEX (the annual industry trade show on Tuesday 28th January 2020. Presenting the top awards on the night was special guest Jack Laugher MBE, who made history at the 2016 Olympic Games by becoming the first-ever Olympic Diving Champion for Great Britain and then followed it up later with an Individual Silver medal in the 3m Springboard, making him the most successful British diver ever.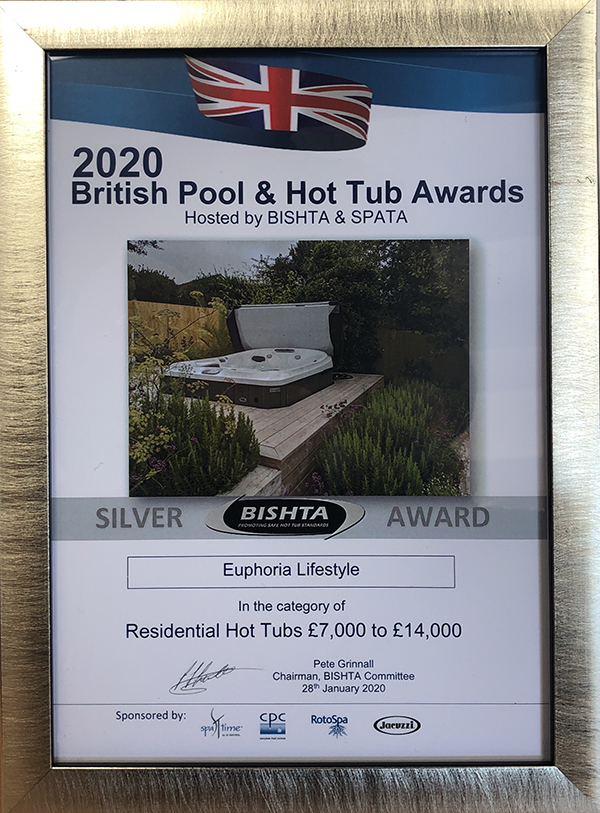 Local company, Euphoria Lifestyle based in West Sussex were awarded a BISHTA Silver Award in the Residential Hot Tubs £7,000 to £14,000 category. Mike Robinson of Euphoria Lifestyle said: "We joined BISHTA in 2007 and during this time we have won numerous awards. As multi-award-winners, we are thrilled to be recognised at the 2020 British Pool & Hot Tub Awards hosted by BISHTA. This year we take home a silver award, and we would like to credit our entire team at Euphoria Lifestyle for their hard work and commitment to making our company a success".
About the British Pool & Hot Tub Awards
The mission of the British Pool & Hot Tub Awards is to recognise the achievements of BISHTA and SPATA members, showcasing the best examples in construction, design, installation, retail, service and innovation. Entries are received nationwide from members of BISHTA and SPATA (the respective national trade associations) who set their own standards governing the installation, construction and operation of hot tubs, exercise spas, pools, spas, saunas and steam rooms. Along with establishing industry standards and a Code of Ethics by which their members abide, the trade associations also give a voice to the industry at home and abroad.
With Thirty award categories, the annual British Pool & Hot Tub Awards reflect the variety of pools, spas, wellness and hot tubs that are available to suit all kinds of budgets and tastes!
Entering the British Pool & Hot Tub Awards also opens the door to Europe, as award-winning companies are eligible to be shortlisted to represent the UK in the European Pool & Spa Awards hosted by EUSA (European Union of Swimming Pool and Spa Associations). Winning these awards provides further evidence of the quality of the company and helps to raise their profile in the UK and across Europe.
Partners and Sponsors of the 2020 British Pool & Hot Tub Awards are; Astralpool UK, Bayrol SpaTime, Bosta UK, Calorex, Certikin, CPC, Dryden Aqua, Fairlocks Pool Products, Golden Coast, Heatstar, Jacuzzi, OASE, Plastica, Pollet Pool Group, Rotospa and Sprayed Concrete Solutions.
Chris Hayes (Managing Director of BISHTA and SPATA) commented: "We have some great people in our industry, and tonight has proved that they can produce great work. We've seen some amazing projects and the British Pool & Hot Tub Awards provides a great showcase for the exceptional talents of our members. I congratulate every winner of this year's awards, and it is my pleasure to work with businesses who strive for the very best and who wish to maintain the highest integrity.
The awards evening takes place during SPATEX, the UK's largest dedicated Pool, Spa and Wellness Show; an event held annually in the Ericsson Exhibition Hall at the Ricoh Arena, in Coventry. The exhibition provides a platform for companies across the UK and overseas to exhibit their products and services, along with opportunities to network with colleagues and a broad range of 'must-see' workshops and seminars running throughout the show.
Both BISHTA and SPATA work on behalf of the industry, but with the consumer in mind. Setting Standards and producing a Code of Ethics by which their members are expected to abide. Providing a route for consumers to purchase water leisure products and services with the peace of mind that companies displaying the trade association logos that are listed on the association's respective websites, are all reputable and trusted businesses working to appropriate standards.
If you would like to find out more about BISHTA and SPATA, please visit the following:
Editors Notes:
There are more images available on request including images from the awards presentation, or if you would like an interview with the company owner, please see the details below.
Mike Robinson
Euphoria Lifestyle
Squires Garden Centre
London Road
Washington
West Sussex
RH20 3BP
T: 0800 023 2215
E: mike@euphoria-lifestyle.co.uk
http://www.euphoria-lifestyle.co.uk
BISHTA PR & Marketing Manager
Sallie Leslie-Golding
M: 07708 288311
T: 01264 356 210 / 211
BISHTA – British and Irish Spa and Hot Tub Association
Tel. 01264 356211 www.bishta.co.uk
For more information about SPATEX, please visit www.spatex.co.uk.