Ideal for full-body relief, the J-475™ Jacuzzi® Hot Tub's 5-6 seat configuration offers the ultimate in style with a relaxing, extra-wide illuminated waterfall, plus an at-a-glance indicator light, color touch screen control panel, and stunning Pro-Finish™ cabinetry accented by corner lighting.
This hot tub boasts the widest variety of PowerPro® Jets, each with adjustable intensity for a personalized, targeted hydromassage. This head-to-toe spa also features a high-back design and an adjustable pillow for enhanced relaxation at any height, and a low-profile foot dome with a circle of powerful FX jets brings relief to tired feet and toes. The J-475™ spa features an RX Jet Therapy Lounge with six spinning jets for a Swedish-style hydromassage along the back, coupled with powerful jets aimed to relieve overworked muscles in the legs, feet, neck, and wrists.
Note. Bluetooth audio included.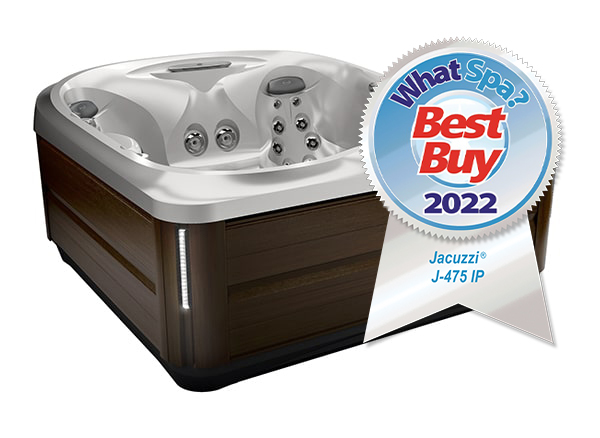 91" x 91" x 37.5 - 43.5" / 231 cm x 231 cm x 95 cm - 110 cm
Customize the J-475™ Hot Tub
The J-475™ Specifications
Dimensions: 91" x 91" x 37.5 - 43.5" / 231 cm x 231 cm x 95 cm - 110 cm
Spa Volume: 440 gal (1666 L)
Filled Weight: 5387 lbs (2444 kg)
Dry Weight: 925 lbs (419 kg)
Primary Pump: 1 speed, 2.5 continuous hp (5.1 brake hp*)
Secondary Pump: 1 speed, 2.5 continuous hp (5.1 brake hp*)
Filtration: ProClarity™ Filtration System with Grill, Skimming Weir + ProCatch Bag
Filters: 1 - ProClarity® Depth Load Filter (circ), 1- ProClarity® 40 sq ft. filter (circ), 1- ProClear® 60 sq ft. filter (hydro)
North America Electrical: 240VAC 60 Hz 30A, 50A or 60A
International Electrical: 230V 50Hz @ 20A (2 breakers required)
Watch the J-475™ Hot Tub Videos
Features of a Jacuzzi® Hot Tub
Showcasing impressive exterior and lighting elements, featuring the greatest massage available, you'll never look at hot tubs the same way again.
Hydrotherapy Health Benefits
GET THE BEST PRICING TODAY
Please provide your information in the form below and we will get in touch with you soon with your quote.