Spa equipment pack, balance tank, and installation costs not included.
The Round 2 spa is part of the family of built-in spas for private or residential use. The spa features a circular design and steps for users to get in and out easily and comfortably.
Ideal for fitting in the floor and for laying wooden flooring or any type of external structure. It accommodates up to four people and has an ideal size for the garden or a hydromassage room.
The spa features 30 massage points distributed in 20 water-massage jets and 10 air-massage jets. It comes standard with an LED chromotherapy lamp with a selection of pre-set sequences and an isothermal cover can be built-in as an option to reduce water heat loss to the exterior and save more in electricity.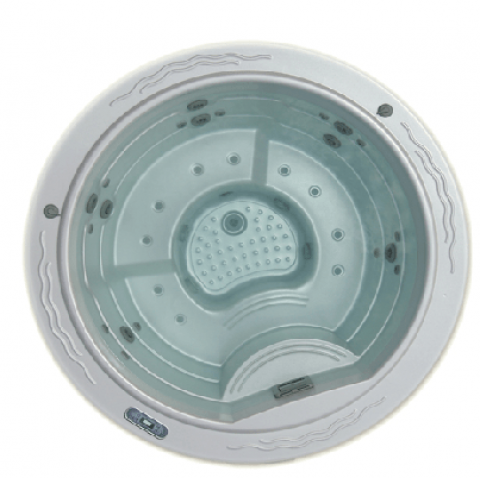 The Round 2 Specifications
Seating Capacity: 5 Adults
Dimensions: D. 205
Average Spa Volume: 680 Liters
Dry Weight: 260
Total Filled Weight: 1.240 Kg.
Spa massage pump: 1,8 kW
Spa blower pump: 0,9 kW
Spa filter pump: 0,6 kW
Power Requirement (W): 6.800 W
Spa voltage: 230 V / 400 V III
Shell: White, Blue Marble, Sterling, Pearl Shadow, Cameo, Winter Solstice
GET THE BEST PRICING TODAY
Please provide your information in the form below and we will get in touch with you soon with your quote.