The Spa Touch is a compact hot tub specially designed for you to enjoy a deeply relaxing couples hydromassage, although it can fit up to 3 people: two loungers and one seat. It is a reasonably-sized hot tub with 42 jets perfectly arranged to provide a flexible and complete treatment of every part of the body through its three different massage programs. The comfortable headrests in each of the positions make it even more relaxing. The Touch is great for anyone looking for a hot tub that offers great performance in a small space.
Just like the other models in the Aqualife range, this Aquavia Spa hydromassage tub was designed as a tool with great features and high efficiency. The Clean Water system efficiently keeps the water crystal clear by injecting ozone in the filtration process. The acoustic impact of this is minimal thanks to the Silent Pump, which emits a maximum of 50 dB in full operation. Another great feature is the alternating colour LED spotlight that lets you adjust the atmosphere to your liking and enjoy the benefits of chromotherapy. It can be combined with the optional Audio Bluetooth system to enjoy the best music controlled from your mobile device.
In addition to the standard model, the Spa Touch can be enhanced by adding options such as EcoSpa thermal insulation, which saves up to 69% in energy to maintain the water temperature, even in the most extreme cold temperatures.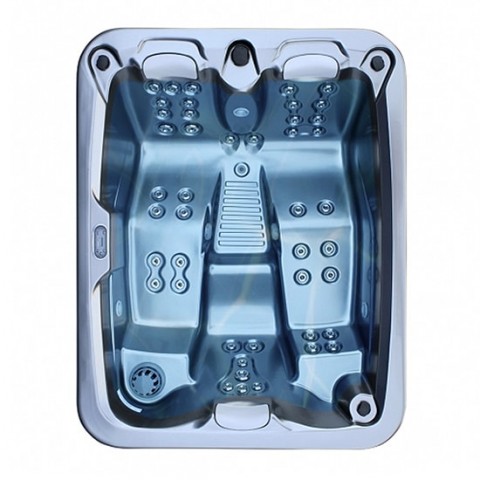 The Touch Hot Tub Specifications
Seating Capacity: 3 Adults
Dimensions: 216 x 167 x 74 cm
Total Jets: 42
Average Spa Volume: 780 Liters
Dry Weight: 229 Kg
Total Filled Weight: / 1.009 Kg
Spa massage pump: 2.200 W / 3 CV
Hot tub filtration pump: 250 W
Hot tub electric heating: 3.000 W
Power Requirement : 3.280 W / 14,3 A
Spa voltage: 230 V / 400 V III
Shell: White, Sterling, Cameo, Winter Solstice, Sand
Exterior cabinet finish: Graphito, Thunder Woodermax, Nogal Woodermax
GET THE BEST PRICING TODAY
Please provide your information in the form below and we will get in touch with you soon with your quote.