Have you been on the hunt for the perfect way to make your garden a stunning escape from your busy everyday life?
Hot tubs provide ample relaxation while supporting your overall health and wellness, and can give your lifestyle a boost of excitement.
For many, 6-person hot tubs are the perfect size to meet their ever-changing needs, offering a space large enough to share, while still maintaining an intimate atmosphere for some quality one-on-one time.
But with so many on the market, how do you know which one is the right fit for your needs?
We're here to help answer that exact question, and provide you with some stunning options that can fit a variety of lifestyles.
Let's get started!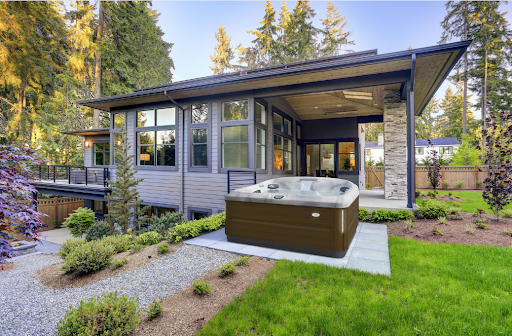 Hot Tub Buying Guide
Before we can dive into the various models below, it's important to narrow down exactly what you're looking for and take a few necessary steps to prepare for this new and exciting journey.
The importance of selecting the right hot tub cannot be overstated. With a lifespan that can reach upwards of 20 years, it's crucial to your long-term enjoyment!
With the five steps below, you can make finding your dream hot tub effortless, skipping the stress and embracing the excitement!
1. Consider Your "Must-Have" Features
The features that are included in your hot tub have a significant impact on both how you use your spa, and how much you enjoy your time in the water.
This will vary from person to person and is highly reflective of your own personal preferences and needs.
Some of the most notable features you'll want to consider include:
Lounge vs open seating
Types of jets and configurations
Waterfalls
LED lighting
Premium cabinetry
Advanced water systems
By compiling a list of the features you can't imagine going without, you'll be able to better pinpoint which models are worth your consideration.
2. Think Long-Term
As we mentioned above, your hot tub may be providing quality hydrotherapy for decades, and as your needs change, you'll want to ensure your spa continues to meet your expectations.
As you explore your various options, you'll want to consider how they'll support you in the coming years.
This is especially important if you have a growing family. While a small hot tub may meet your needs now, will it be large enough to accommodate your family in another 5 years?
3. Set Your Budget
There's no denying that hot tubs are a significant investment. Coming in with a wide range of price points, with some costing a few thousand while others ring in at over £25,000!
As with anything else, it's important to ensure you can comfortably afford the model you choose.
If you're working within a tight budget, you'll want to set your boundaries before you begin exploring your options.
4. Look Into Financing
While we're on the topic of budgets, did you know you can finance a hot tub?
Just like any investment, you shouldn't be limited to your choice by a bulky (and unnecessary) upfront payment!
To make your dream hot tub more affordable, consider applying for financing prior to beginning your shopping.
This can help ensure you don't feel you have to settle, and can expand your list of possible models far beyond what a lump sum may allow.
5. Find a Reputable Hot Tub Dealership
Where you buy your hot tub is equally as important as which one you choose.
The reason for this is simple; you're not just making a purchase from them, but partnering with them for years to come.
Your dealership will be supporting you and your hot tub long after it's left the showroom and you've enjoyed your first soak.
Prior to deciding where you want to purchase your hot tub, take time to do your research.
Read reviews, browse their website, consider their expertise, and even stop in for a visit to see how they treat customers.
This can help give you a strong understanding of what your future relationship will look like with them, whether that's on delivery day, or the first time you need service.
6-Person Hot Tubs With Lounge Seating
Now that you have a sense of what it is you're looking for in a hot tub, it's time to begin exploring some of the amazing options here at Euphoria Lifestyle!
Hot tubs come in various styles, but there are often two distinct groups of people; those who want a luxurious lounge seat, and those who want to maximize the usable space with open seating.
We're going to explore three options for both of these categories, starting with models boasting full loungers to ease every aching muscle, from your shoulders to your toes!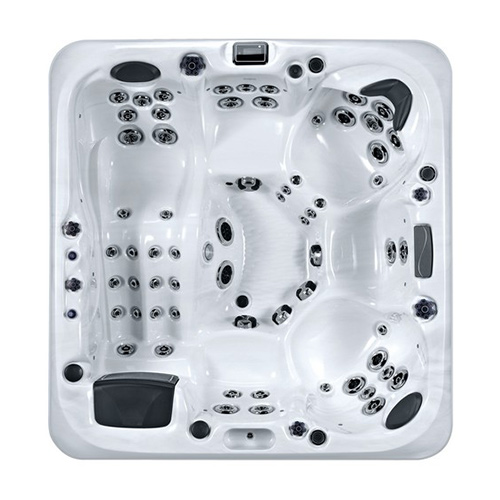 St. Tropez
This stunning 6-person hot tub is sure to make an impact on your garden space, offering the perfect combination of quiet relaxation and lively conversation.
With a full-length lounger packed with jets, the St. Tropez model offers a powerful hydromassage experience that can expertly ease weary muscles after a long day.
Paired with an eye-catching arch of seats hugging the outer edge of the opposite side, every person you invite into the water can soak their worries away while easily carrying on a conversation.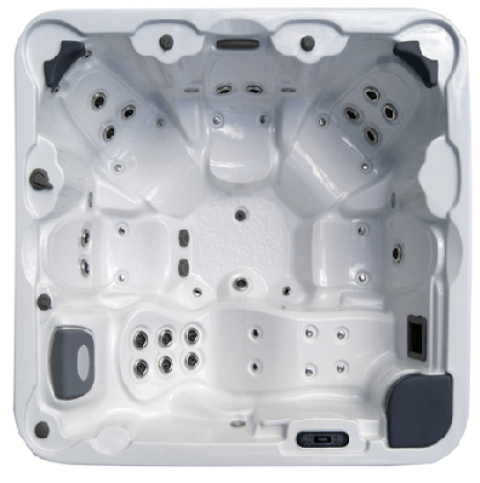 Mallorca
If you've always dreamed of having a garden reminiscent of a high-end spa, the Mallorca hot tub is sure to be everything you've been looking for.
This model has been designed with seamless installation in mind and is perfect for a semi or fully built-in spa installation.
Boasting a high-strength galvanized steel structure,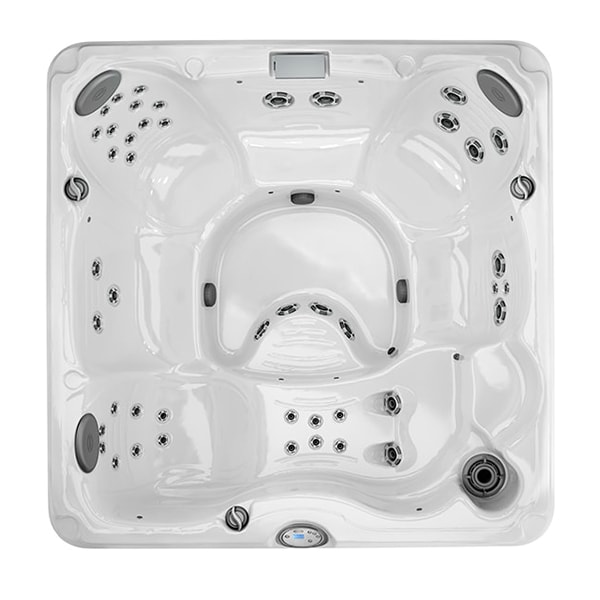 J-275™️ Hot Tub
Jacuzzi®️ Hot Tubs are easily one of the most widely known brands across the globe, and with their focus on innovation and premium hydrotherapy, it's no surprise.
If you're looking for an affordable 6-person hot tub from this renowned brand, the J-275™️ model is sure to please!
This hot tub offers six different jet combinations, ensuring you can easily treat your aching muscles every day of the week.
What's more, is that with the twin jets in the asymmetrical foot dome, you can enjoy a powerful foot massage from every seat in this spa!
With five forward-facing seats and one lounge sprawled across one side, this hot tub can complement every lifestyle with ease.
6-Person Hot Tubs With Spacious Open Seating
Are you someone who envisions sharing your hot tub with your favourite people as you engage in lively conversations?
Maybe you have kids and want to amp up their fun at home 365 days a year and want a more unobstructed space for them to play in.
Whatever the case, these 6-person hot tubs with open seating designs were made for sharing.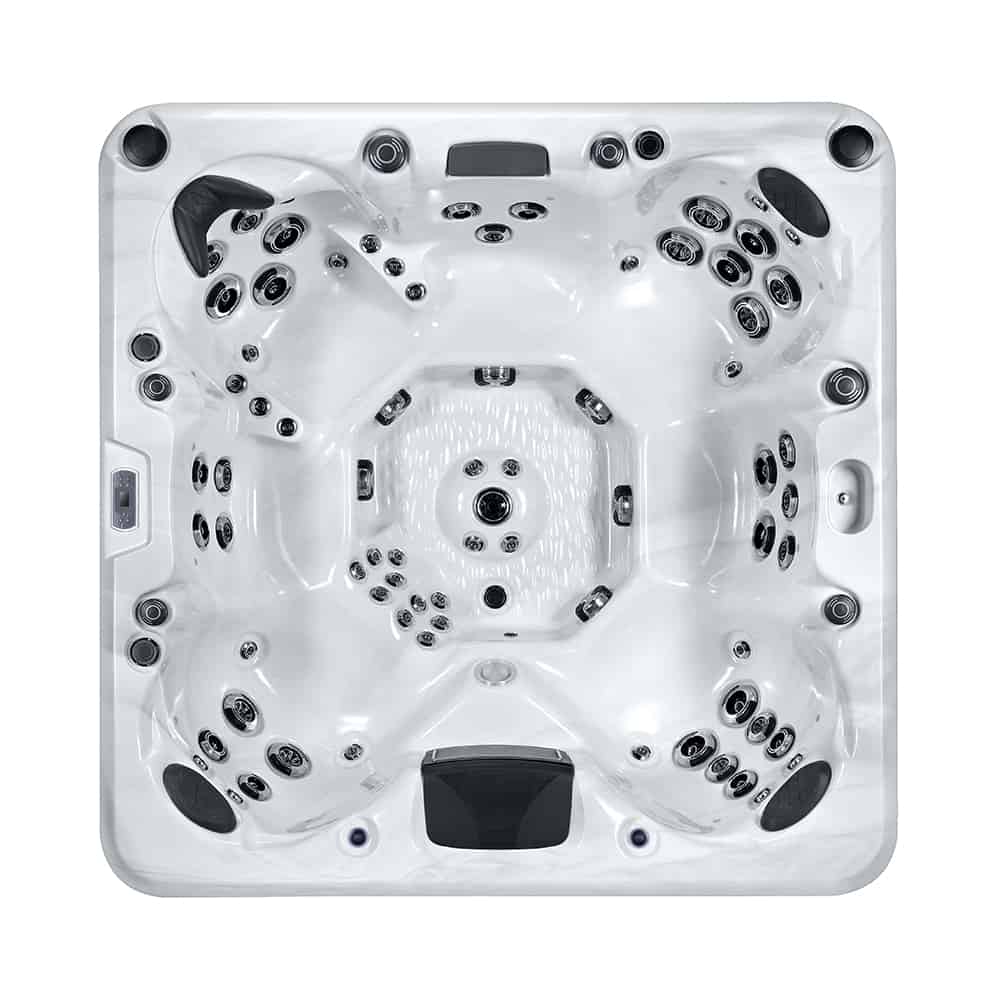 Sorento
If you're looking for a spacious hot tub that doesn't compromise your massage experience, the Sorento may be your perfect match!
This hot tub boasts a total of 72 hydromassage jets, and six different massage options spread throughout the spa.
Better yet, even without a lounger, this hot tub was thoughtfully designed to include a full-body massage experience, with one of the seats boasting a line of powerful jets to target your calves.
Furthermore, if you struggle with carpal tunnel syndrome, the jets along the arms of another seat can treat your aching joints with the gentle pressure they crave.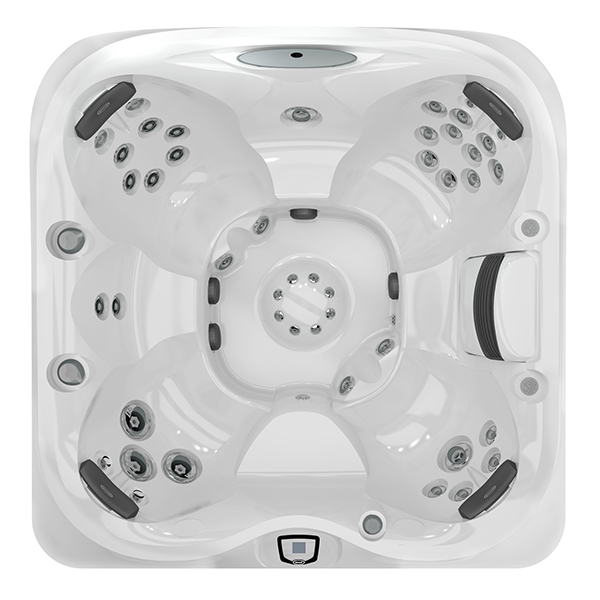 J-445™️ Hot Tub
The final 6-person hot tub on our list is a sleek model that will leave guests in awe as they walk into your garden space.
With its premium cabinetry, exclusive high-back design, and various therapeutic seats, the J-445™️ Hot Tub is a stunning model that expertly combines style with comfort.
Boasting a spacious interior, this hot tub was made for sharing with your closest loved ones.
Above all, this hot tub was made to stand the test of time, with its advanced filtration systems, CLEARRAY Active Oxygen™️ System, and Floating Propolymer™️ Foundation.
6-Person Hot Tubs for Sale in Washington, West Sussex
Are you ready to take the leap and update your garden space with a luxurious 6-person hot tub?
The experts at Euphoria Lifestyle are here to help!
From finding the perfect model to meet your needs, to explaining how the features can support your ownership experience, you'll discover everything you need when you walk through our doors.
Contact us today to learn more, or visit us in-store to explore your options in person!