As the pandemic has made most of us work from home, there is a new dynamic to adjust to. Working from home means that there is no longer the physical separation of work and life, with many people's work/life balance suffering.
Some find they work far longer than they used to, and others find they work far less. Finding a healthy balance starts with being clear about where your work from home routine stops and life starts and then dedicating time to take care of yourself.
An easy and holistic way to do so is by incorporating your spa into your work from home routine. Before work, after work, or even during a break, outdoor hot tubs bring many benefits that can supplement your work, and enrich your life.
Soak Before Your Work From Home Routine (or During a Break)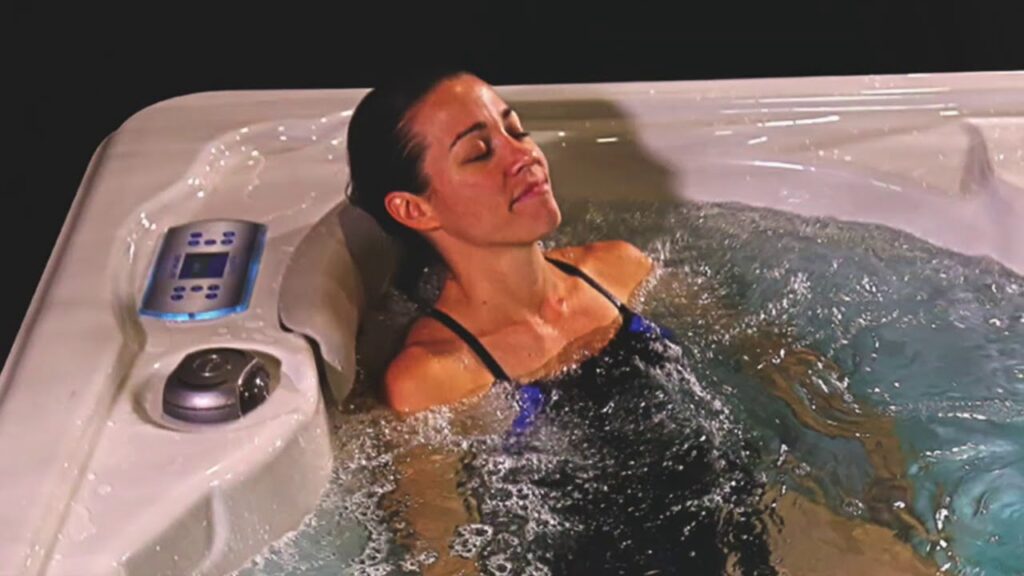 Stretching in a hot tub or swim spa is wonderful and can really set the tone for the day. As the spa's heat warms your muscles, they become more pliable, and you have a greater range of motion due to the buoyancy of the water.
Stretching and balancing are also less of an effort as the water's support means that your body only bears up to 20% of its weight. This is also a great time to do laps if you have a swim spa, such as our DualStream SwimExpert, or simply yoga if you have a smaller hot tub.
If you love aromatherapy, citrus scents will awaken the mind and refresh the senses, energizing you for a productive day at work or at your work from home routine.
Enjoy Your Spa After Work
Stretching, hot tub yoga or a workout would also be a great choice after a long day at work. Some of the best stretches for back pain in a hot tub would be torso twists, hamstring stretches, the baby stretch, the cat stretch, and the side stretch.
There is also the simple practice of relaxing in a hot tub. The warmth of the water, the bubbling jets, and the fact that your spa is outdoors will soothe the worries and stress of the day away. This can also be coupled with aromatherapy, with calming essential oils such as lavender and cedarwood.
Ensuring that you unwind after a long day is key for a good night's sleep, and ensures that you're more ready for the next day.
Your hot tub is also a prime reason for spending more time with loved ones, which is great if you've been working all day and finally have some time to share with them.
Whether you're using your spa to stretching, doing hot tub yoga, or just soaking and relaxing, making it part of your work from home routine is a great way to find balance and improve your well-being. Adding essential oils can further enhance your experience and support your physical and mental health.
If you don't have a hot tub or swim spa, now is the perfect time to invest in one!
Find Your Dream Spa at Euphoria Lifestyle
Of course, we have the best hot tubs, and all of our hot tubs for sale suit different needs. Whether just for two, or six, or a swim spa for laps, we have what you need here at Euphoria Lifestyle.
Our award-winning dealership, located in West Sussex, stocks only the best spa and hot tub accessories for enjoyable work from home routine.
And our line of Jacuzzi® Hot Tubs is a great place to start. Whether you're interested in outdoor hot tubs or an indoor spa, our experts can help. Send us a message or drop in for a visit at our showroom to see what we have in store.
Did you enjoy the information in this article? Visit our Learning Hub for more information about our hot tubs, swim spas, and saunas for sale in West Sussex!