Do you enjoy stepping into the warm depths of your hot tub after a long day but sometimes wish you could bring your relaxation even further?
When it comes to spas, hot tub accessories can make all the difference!
Your garden is a private escape from the world, and your spa is a big part of that.
With the right accessories, you can not only amplify your relaxation but also update your space to truly feel like you're stepping into another place altogether.
If you're the proud owner of an outdoor hot tub and you want to enhance your overall hot tub experience this summer, then keep reading!
In this article, we list four of our favourite must-have hot tub accessories that you'll absolutely love. Read on to learn more!
12 Hot Tub Accessories For a Renewed Experience
Hot tub accessories come in a wide array of styles, and not every one will aim to accomplish the same thing.
While some work to enhance your relaxation, others help make your spa more functional or make your hot tub maintenance routine simpler.
Let's explore some of the best hot tub accessories from either category!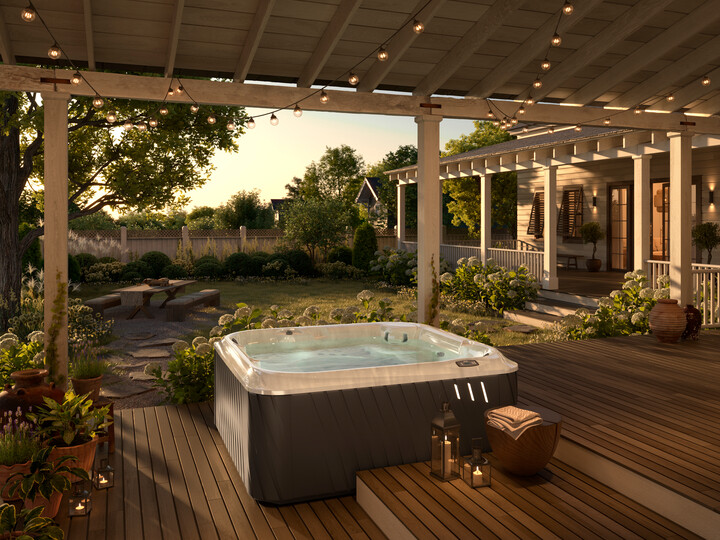 Hot Tub Accessories For Relaxation
Some of the best hot tub accessories are solo created to amplify your relaxation, wash away stress and transform your time in the water.
Aromatherapy
Aromatherapy has been around for centuries, and it's a great way to enhance the emotional and mental benefits you experience during your time in the water.
When it comes to adding aromatherapy to your spa, you'll want to avoid the traditional options, like essential oils or bath bombs.
Instead, you'll need to find some hot tub-safe aromatherapy. Often this comes in the form of crystals of liquid.
With scents like lavender, lemon or eucalyptus, there's a scent to effortlessly match your needs.
Inflatable Spa Pillow
Not all hot tubs are created equal!
If you're looking for optimal comfort for yourself, family and friends, investing in a few pillows can take your rest and relaxation to the next level.
Affordable, durable, and often made from quality suede, many inflatable spa pillows come with suction pads so that they can be easily fitted to the side of the tub.
Bluetooth Speakers
Are you someone who pairs music with your mood?
This is a common experience, and while it's great to keep you focused throughout your workday or awake in the car, it's also a powerful way to coax your mind into releasing your stress!
Not all hot tubs come with built-in speakers, but luckily, with the wide range of waterproof Bluetooth speakers on the market, adding your favourite music to your next spa sessions isn't a challenge.
Lighting
If you're a visual person, adding some lighting around your spa can have a significant impact on how you feel when you step into your garden.
Whether it's through delicate fairy lights hanging from your pergola or gazebo, or elegant lanterns placed around your hot tub, lights can go a long way.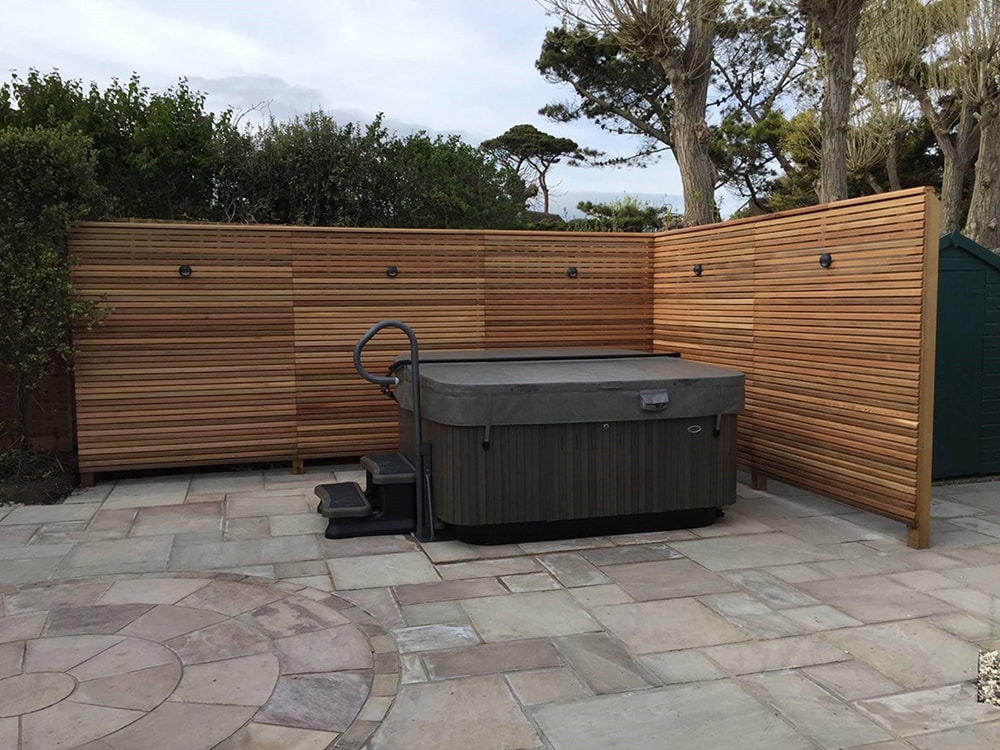 Hot Tub Accessories For Functionality
Hot tub accessories go far beyond simply stimulating your sense to improve relaxation.
There are also options that can amplify the ease of use of your spa, making it more accessible while also enhancing safety!
Hot Tub Steps
They may look insignificant and small, but hot tub steps are one of the most important accessories you'll need to make getting in and out of your hot tub safe and secure.
Unless your hot tub is installed alongside your deck or in-ground, hot tub steps will be an essential accessory to include.
Many have been designed to seamlessly match your hot tub cabinet, ensuring they don't reduce the aesthetic of your hot tub. However, you could always design your own as well!
Whether it's a few stunning stone steps, or a wrap-around tiers platform, there are plenty of DIY options!
Covers and Lifts
You'll enjoy your hot tub a whole lot more with a hot tub cover and cover lifter.
As well as protecting your hot tub from dirt and debris, hot tub covers can save your electricity costs from spiralling out of control by maintaining the heat of your water inside.
While they can weigh up to 30 pounds, a hot tub cover lifter with support arms will make it easier for you to lift and move around.
Cover Clips
While we're on the topic of covers, investing in some cover clips is also a good idea.
These clips improve the overall safety of your spa, locking down your cover to ensure unwelcome visitors don't access or spa, or strong storms can blow your cover off.
Floating Spa Bar
If you're hosting a party or relaxing with a loved one, the floating spa bar will come in handy.
Available in inflatable or non-inflatable formats, the floating spa bar is ideal for propping up your food and drink items whilst soaking in the hot tub.
Designed to be stable, so there's minimal risk of spillages, this easy-to-use and flexible accessory can also be rested on the side of the hot tub when necessary.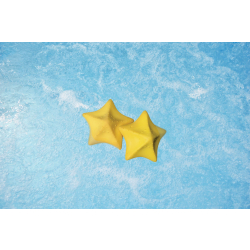 Hot Tub Accessories for Improved Maintenance
The last category of hot tub accessories are those items that were designed to simplify your hot tub maintenance routine.
Let's be honest – hot tub care can be time-consuming, but with the right tools, it can become a whole lot easier!
Hot Tub Sponges
If you're tired of constantly cleaning scum lines off your shell, hot tub sponges are a great solution!
These little sponges float along the surface of your water and absorb any oils that were pulled off your body and into the water.
While it won't remove the need completely to clean your shell between deep cleans, it can minimize the grime buildup and keep your water cleaner.
Hot Tub Filter Cleaner Tool
If you want to make your filter care easier, consider adding a filter cleaner tool to your routine!
These cleaners attach to your garden hose and have a comb design, praying water in smaller streams to easily clean between your filter pleats.
Not only can these attachments help you better clean your filters, but they make the process much easier and less time-consuming.
The Estelle Filter Cleaner
Alternatively, you could take the work out of cleaning your filters with the Estelle Filter Cleaner!
This accessory has an open interior for you to put your filter and a lid that closes to seal in the water.
Simply attach it to a water source, put in your filter, and turn it on. The Estelle Filter Cleaner will do the rest!
It truly makes cleaning your filters effortless!
Watch it in action in this short video!
Darlly Pure-Stream
The last hot tub accessory on our list is the Darlly Pure Stream.
This is a filter that attaches to your hose, and works to pull calcium and magnesium out of your water, replacing it with soft sodium before it goes into your hot tub.
Not only does this help improve the overall quality of your water right from day one, but it can reduce the risk of scale building up from hard water!
Hot Tub Accessories for Sale at Euphoria Lifestyle
Isn't it time you took your comfort level to new heights?
Well, now you can with our wide range of affordable hot tub accessories at Euphoria Lifestyle!
Visit our online store or stop by our showroom today in West Sussex – Our friendly and efficient staff will be more than happy to serve you.
We have an unbeatable selection of hot tubs for sale that can complete any lifestyle. And with a wide range of hot tub prices to choose from, you can find the one that's most comfortable for your wallet.