Looking to bring your garden back to life?
The thought may have come across to install a hot tub or swimming pool, but what if we told you that you could enjoy the benefits of both in one compact system? Swim Spas, also known as swim spas or exercise pools, are becoming increasingly popular garden additions.
Larger than a hot tub, yet smaller than a swimming pool, these spa systems can offer you many of the features and benefits of both, but at less than half a space that a pool requires and with more wiggle room than a hot tub can provide.
While we aren't saying that one system is better than another, a swim spa can provide you with the perfect solution if you cannot decide between a pool and a hot tub.
In this article, we're going to dive in a little deeper and see what makes swim spa truly magical spa systems.
What Are Swim Spas?
A swim spa is essentially a spa system that is a hybrid between a hot tub and a swimming pool. Ranging from 12 to 18 feet in length, swim spas are larger than hot tubs and bigger than swimming pools.
Swim spas offer many of the same features and benefits as hot tubs and pools, including an open-concept area perfect for swimming, as well as a comfortable seating area for ultimate relaxation.
Swim Spas can be installed both above or below ground and inside or outside. It all depends on your lifestyle and what you would like to get out of your swim spa installation.
Features of Swim Spas
Powerful jet at the far end that creates a stream of water with enough resistance for users to swim, walk or run against
Comfortable seating area with an ergonomic design to evenly support the body for an exceptional hydrotherapy experience
Powerful, yet gentle, hydrotherapy jets strategically placed throughout the system to massage sore muscles and joints
User-friendly control system allowing the user to engage jets, swim jet, stereo system, lights, and more
Optional equipment for low-impact, water-based exercise, such as rowers, resistance tethers, waterproof weights, boogie boarding, and more
Energy-saving technology, full insulation, heat retention systems, heated blankets, hardcovers, energy-saving settings, and more
Modern and advanced water management systems to keep the water clean and safe with minimal effort from the owner
To learn more about the benefits and key features of the swim spas for sale at Euphoria Lifestyle, get in touch with us today.
Benefits of Swim Spas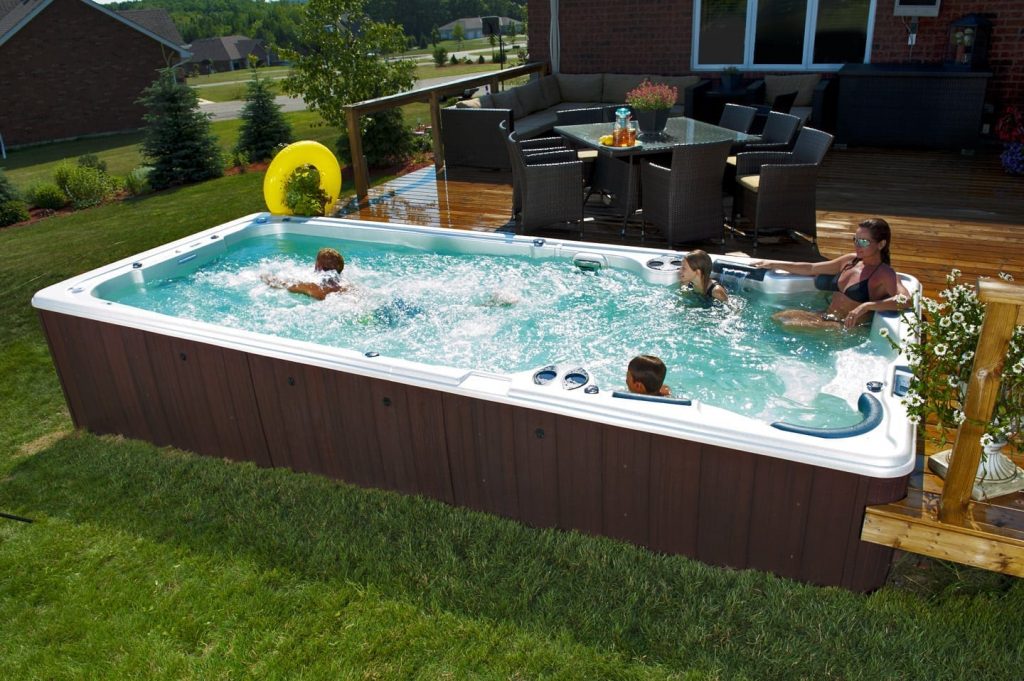 Improved Health
Using a swim spa on a regular basis can result in an array of health benefits, including:
Better sleep patterns
Soothed joint pain
Reduced muscle tension
Reduced feelings of stress
Fewer aches and pains
Improved post-injury recovery
Better mobility, flexibility and balance
Reduced risk of injury
Stronger muscles
Reduced risk of certain conditions and diseases
How will your health benefit?
Weight Maintenance
Swim Spas are built with low-impact exercise in mind. Exercise is key for many people to lose weight and maintain a healthy weight. For those who suffer from stiff or sore muscles and joints, exercising in the water can be a dream.
The buoyancy can lift up to 90% of the weight from your body, providing a well-deserved break to your muscles and joints, while the heat of the water and massaging-action from the jets help to relax and ease built-up tension.
Convenient and comfortable, having easy access to a fun and enjoyable approach to exercise in an outdoor swim spa might be just what you need to live a well-balanced and healthy lifestyle.
Improved Garden Area
What better way to improve the aesthetic and purpose of your garden area, than with an outdoor swim spa?
Create an area dedicated to rest and relaxation, or enjoyment and entertainment – the choice is all yours!
Family Fun
Spend time with the kids, your spouse, or family and friends within the comfort of your garden swim spa.
Equip your spa with accessories such as boogie boards, an outdoor movie screen, waterproof sound system, patio furniture, comfortable chairs, outdoor lighting, and more to set the mood!
Swim Spas at Euphoria Lifestyle
Ready to add a swim spa to your garden area? Visit Euphoria Lifestyle for the best deals on swim spas for sale in West Sussex!
Our team of garden specialists would be more than happy to help you. We have a wide range of AquaVia Swim Spas for sale.