Buying a large swim spa for your garden is a significant investment, and it's essential you choose the right model for your needs.
With so many options on the market, there are various styles to choose from, each with its own unique strengths that can support your enjoyment every day of the year.
If you've been on the hunt for the perfect swim spa to elevate your garden, keep reading!
In this article, we're exploring two of the top brands in the industry and the various large swim spa models that can make your garden dreams a reality.
Let's get started!
What to Do Before Buying a Swim Spa
Before buying your swim spa, there are a few steps you need to take to ensure you're investing in the right one.
Swim spas aren't cheap, which is why they come with financing options.
The last thing you need is to purchase your spa only to discover it doesn't meet your needs or leaves your garden feeling cramped!
Before settling on your dream swim spa, here are some essential steps to take.
1. Measure Your Garden
The size of your garden will have a significant influence on the swim spa you can buy. While these spas are compact to suit smaller gardens, if you invest in one that's too big, yours can quickly feel cramped, minimizing the enjoyment you experience while outside.
Knowing the size of your garden can help you determine the best size swim spas for your space, ensuring you don't waste time looking at models that aren't a good fit for your space.
2. Consider Your Options
Each swim spa is unique, and they have various differences that can impact your decision.
For example, some swim spas include textured bottoms, ensuring you can include bodyweight exercises into your routine. Others, on the other hand, include a closed-off hot tub section, allowing you to optimise your massage sessions even further.
What you want your swim spa to provide you will be important to be aware of before buying. You'll want to make sure you know what your spa should include to effectively meet your needs.
3. Set Your Budget
While financing is available, knowing your ideal price will help you narrow down your options. You don't want to end up with a swim spa that's far outside your price range, causing your extra stress!
The great news is, if you stick to your budget, you can easily find a swim spa that fits within it and can make payments easily so you can enjoy your swim spa free from worry.
Benefits of Swim Spas
Swim spas provide a robust range of benefits, both to your health and lifestyle.
Not only do they offer the ideal environment for your daily cardio, but they also improve the value of your home and support your emotional well-being.
While the list of swim spa benefits is long, here are the most common ones we hear our customers raving about.
Accessible Workouts
Rain or shine, you can easily step into your back garden and enjoy a quality swim. When you have a swim spa, you no longer need to make the long drive to the gym or risk losing motivation by getting up early to battle traffic before starting your day with a workout.
Swim spas provide a way to make working out easy and make it simple to adjust your workout to meet your needs every day of the week.
Saves You Money
While swim spas are an investment, they can save you substantial amounts of money each month by eliminating the need for a gym membership.
Your swim spa provides the optimum environment for all your workouts, increasing the resistance during your bodyweight exercises, supporting your body for powerful lifting workouts using water weights, and giving you flexibility with your cardio options.
Improves Circulation
Spending time in warm water helps improve your blood flow by expanding your blood vessels, making it easier for them to receive the oxygenation they need to thrive. This helps your body function better, even after you've left the spa.
This is especially powerful after you finish your workout. Exercise places tension on your muscles, and when your blood is able to effectively travel through your body, it can help aid in the recovery of those muscles. This leaves you with less stiffness and minimizes post-workout pain.
The best thing is this can be done while you're working out or as you sit back and enjoy a relaxing massage in one of the hot tub seats.
Protects Your Joints
Any exercise can be hard on your body, particularly on your joints. Whether you're running or lifting weights, your joints are experiencing increased pressure, which can lead to inflammation and decreased mobility.
Swim spas make it easy to work out without the intense pressure on your joints. The water helps support your weight, making it easy for you to have a quality workout while minimizing the stress your joints are under.
Exercising in your swim spa makes it possible to experience a better workout because your body is better able to move through each movement. This can help improve your joint health long-term and help you gain better mobility when paired with gentle stretching while you're in the water.
Creates Lifetime Memories
Pool parties will no longer be for mid-summer when the temperatures are high. Your kids will love splashing around in the swim spa all year long, helping them spend more time outside and be more active.
Swim spas make it easy to teach your kids how to swim in a controlled environment or ride the wave as they play on a bodyboard to balance on top of the powerful water current.
Best Large Swim Spas for Your Family
Our showroom is stocked with two unique swim spa brands, ensuring you have the best options and can shop with confidence that your spa can meet your needs with ease.
Jacuzzi®️ Swim Spas
Jacuzzi®️ Swim Spas are some of the best on the market and provide a powerful current of water for you to easily customize your swimming experience.
These swim spas range in price from £23,499 for their smaller units to £43,199 for the larger models.
J-19 PowerActiveTM
This large swim spa is priced at £38,699 and boasts an impressive open swimming area with four hot tub seats for you to recover in after your workout.
The J-19 PowerActiveTM swim spa includes a gripped floor to make walking, running, or bodyweight exercises easy. This also gives you peace of mind knowing when your kids are playing in the swim spa, they can easily stay upright, minimizing the risk of slipping while in the spa.
With various jet configurations in the ergonomic hot tub seats, your swim spa will easily melt away the tension after a long day or an intense workout.
J-19 PowerProTM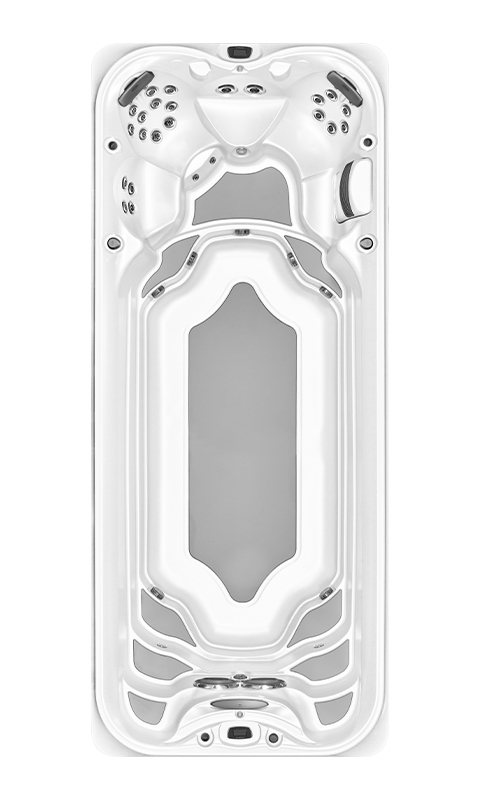 The J-19 PowerProTM is a large swim spa that includes two high-powered jets to create a strong current for you to battle against, making it easy to get stronger and perform better than you would in a traditional pool.
This swim spa is priced at £43,199 and provides an impressive range of options, from precision hydrotherapy jets lining the hot tub seats to the open swim area that gives you plenty of room to push yourself to the limits.
If you're looking for a large swim spa with maximum customization, this model is for you. With its twin jets, you can easily adjust the flow of water to advance your swim each time you get stronger or create the perfect, joint-friendly running environment, rain or shine.
Aquavia All-Season Pool
Aquavia all season pools have earned the achievement of "best buy" multiple times, making them a quality purchase while maintaining affordable prices.
These pools range between £21,850 and £33,234 and can be installed both above ground and in-ground, making them a flexible addition to your garden.
Duo Swim Spa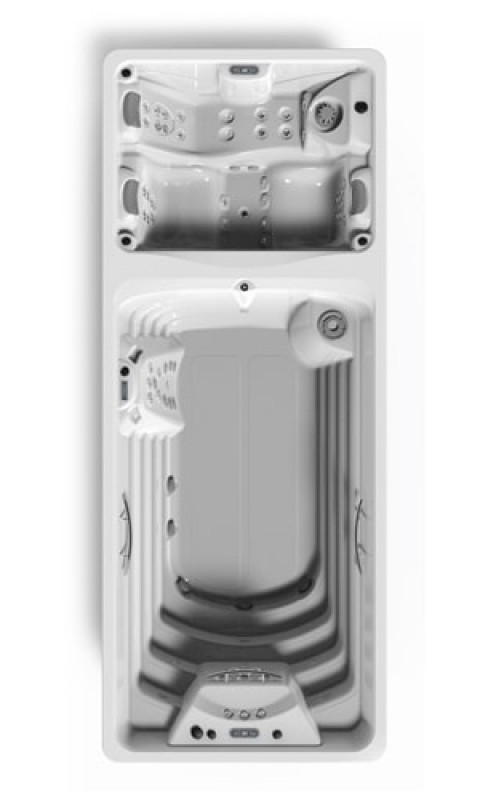 This swim spa is the largest one in our showroom, with a length of 575cm, making it an ideal fit for anyone. The Duo Swim Spa ranges in cost from £31,840 (in-ground) to £33,234, and boasts an impressive design.
With a separate hot tub section, you have full control over your spa session, whether you're settling in for a relaxing massage or are preparing to challenge yourself to a long cardio session.
This design makes it easy for you to share the swim spa, allowing people to relax in the hot tub section while you go for a swim or vice versa. Additionally, it also makes it possible to have the swim spa at a lower temperature than the hot tub area, ensuring you can have an enjoyable experience in both sections.
Amazon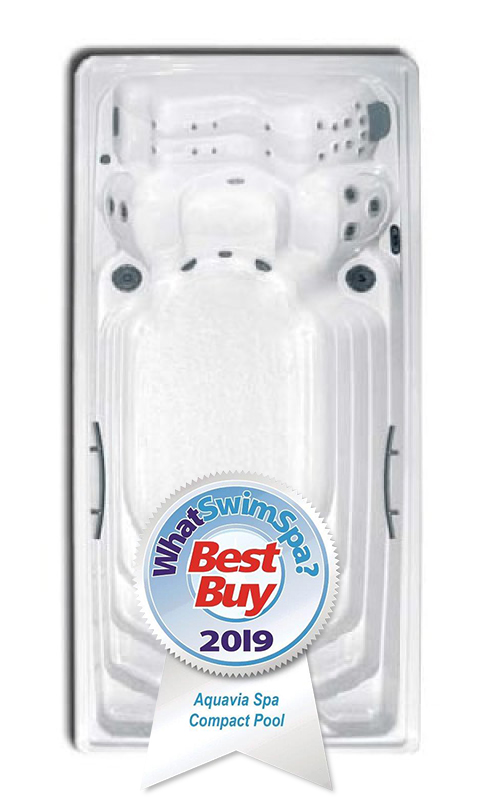 This is one of the smaller options on this list, however, it still provides ample room to indulge in a challenging swim before floating back to lounge in your spa for a full body massage.
At £24,923 for an in-ground installation, the Amazon is priced at an affordable price, making it easy to fit any budget without compromising on your swimming experience.
This model is outfitted with a full lounge seat, making it an exceptional option that maximizes your relaxation experience. Paired with two ergonomic seats, this large swim spa makes it easy to target any muscle that needs release.
Large Swim Spas for Sale in Washington, West Sussex
Whether you're looking for the perfect hot tub or want to elevate your garden with a swim spa, Euphoria Lifestyle has a wide selection of spas to meet your needs.
Bring your garden to life while easily reducing your pain, and make meeting your fitness goals easy by stepping into your new swim spa.
Contact us, or visit our showroom to explore your options or book a wet test. Our team of experts are happy to help you find your dream spa.