Price From: £22,284 - £26,863
[Walnut / Graphite / Thunder Cabinet] £22,284
[White Solid Surface Cabinet] £26,863
The Ergo Cube hot tub is the perfect model for anyone who wants a hot tub with great features combined with a stylish and modern design. This hot tub has five positions, distributed between 2 loungers and 3 seats. Fitted with a total of 28 jets and 14 air nozzles, the hot tub has a complete hydromassage circuit that allows the user to complete a full treatment. It has a powerful LED lighting system both inside and outside (optional in certain models) that make the hot tub a genuine chromatherapy centre. This model is supplied with various cabinet finishes: Solid Surface, Graphite, Walnut and Thunder, allowing the hot tub to blend in with any of the different environments in which it might be installed. The hot tub is fitted with a Balboa system that controls the hot tub's filtration, temperature and massage functions. It has a cartridge filter and an ultraviolet light-based water disinfection system.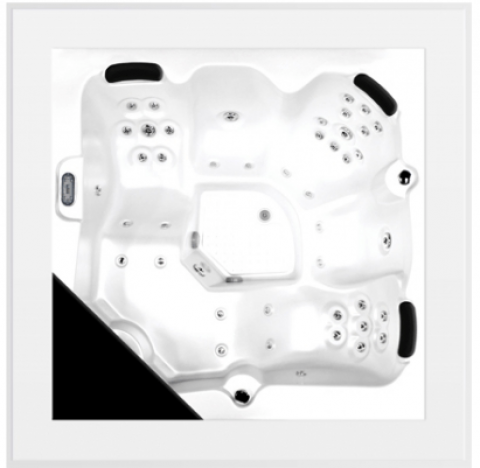 The Cube Ergo Spa Specifications
Seating Capacity: 5 Adults
Dimensions: 231 x 231 x 78 (± 1cm)
Average Spa Volume: 975 Liters
Dry Weight: 450 Kg
Total Filled Weight: 1.425 Kg
Spa massage pump: 1.800 W / 2,5 CV
Spa blower pump: 1150 W
Spa filter pump: 250 W
Low Amp (W)/(A) to 230 V: 3.400 W / 14,8 A
Spa voltage: 230 V / 400 V III
Cabinetry: Solid Surface, Walnut, Graphite, Thunder
Shell: White, Sterling, Pearl Shadow, Sand
GET THE BEST PRICING TODAY
Please provide your information in the form below and we will get in touch with you soon with your quote.